Under the motto "Home of Consumer Goods", the Frankfurt consumer goods fairs 2023 are rethinking the irreplaceable live trade fair experience. Discovering, networking and ordering will be possible in a completely new dimension - because Ambiente, Christmasworld and Creativeworld will be held simultaneously in future. What is behind this new set-up from 2023? Vice President Philipp Ferger explains the background and benefits to retailers.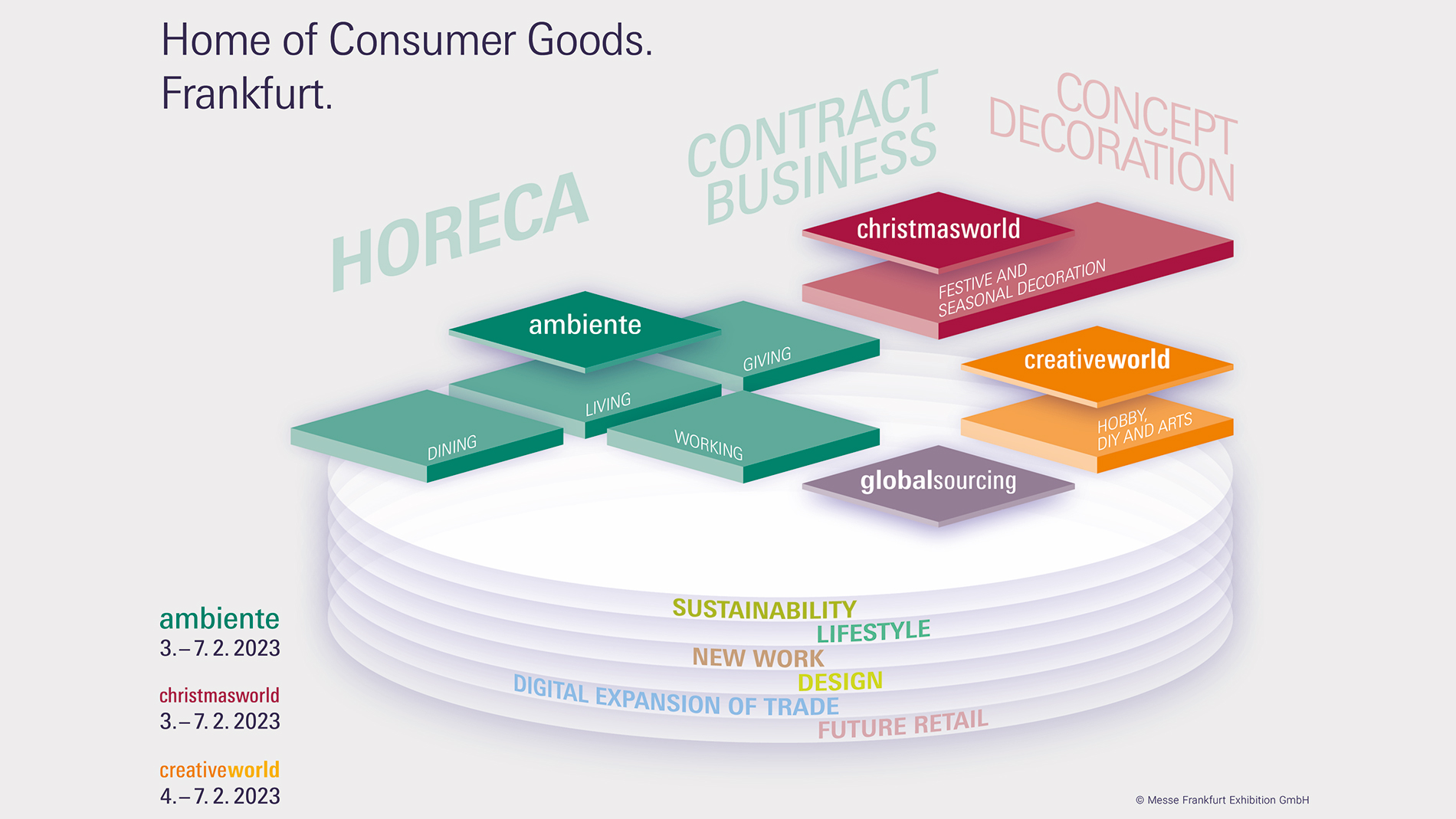 One time. One place. Mr Ferger, what moved Messe Frankfurt to make this decision?
The past two years without trade fairs have shown that personal encounters and the live experience of products are indispensable for good business. However, we find ourselves in an absolutely new reality: the rapid change in social values and advancing digitalisation have led to massive changes in the structure of markets, sales channels and target groups - our trade fairs must also reflect these developments.
For example, the boundaries between the spheres of living & working have become fluid, these worlds of life are growing ever closer together - New Work is one of the new megatrends. At the same time, a new awareness of sustainability is growing day by day. Frequencies in stationary trade are falling and online sales shares are rising. The ongoing pandemic is additionally accelerating both the change in values in society and the structural change in the market. Travel is restricted worldwide. Logistics problems and material bottlenecks are increasing. These are just a few of the many drivers that are keeping the globally active industry on its toes.
In other words, we take the current challenges in the market into account and ensure that completely new and unique perspectives and business opportunities are created for supply and demand. To this end, we are creating a format under the motto "Home of Consumer Goods" that connects all players more intensively and gives you as a retailer new impulses with which you can inspire your customers.
For the first time, Ambiente, Christmasworld and Creativeworld will be held simultaneously from 3/4 to 7 February 2023. What are the advantages for the trade?
To put it in a nutshell: Retailers save costs for tickets, travel and accommodation, while at the same time gaining time and a multiple of inspiration for the entire business season. The combination of three successful leading trade fairs in one place at one time combines their strengths and thus offers you a product range that is unique worldwide in terms of quality and quantity.
Frankfurt is once again the centre of the global ordering season, boosting synergies and efficiency for all involved, making it the one, comprehensive inspiration, ordering and networking event - the one-stop shop for the global consumer goods industry.
All forms of trade will be addressed equally and their needs met, and the respective growth segments will be driven forward in a targeted manner.
This is where business will be done from February 2023, where live exchanges will finally take place again and where the trends will be defined that consumers can subsequently experience and purchase around the globe. You can use Frankfurt all-round for your business contacts - but also as a training event, because we offer an exciting supporting programme with top-class lectures and workshops on current topics and trends. In addition, the product mix will be supplemented by further product groups and presented in a completely realigned hall structure, which thinks along short distances for you at one of the most modern exhibition centres in the world.
Keyword new offer mix: What is concretely new and what is behind Ambiente Working?
The Corona pandemic has manifested itself as a catalyst for new developments, especially in the areas of living and working. And as innovative products reach market maturity, new offers are positioned and consumer demand behaviour changes, the marketplace must also renew itself. We are taking this as an opportunity to reorganise the PBS range: For example, the new Working product area under the umbrella of Ambiente, the world's leading trade fair for the sector, creates future-oriented impulses for manufacturers as well as for retailers, designers, architects and office furnishers. At the same time, Working complements the Dining, Living and Giving sections and, in this new constellation, offers new fields of development for the stationery sector - from contract business, the sustainability megatrend and the perennial favourite, Design & Lifestyle, to target groups in the hotel and catering trade. In addition, Ambiente Giving will be further developed with the newly conceived range of stationery products, including stationery and school supplies. The product groups ribbons and packaging as well as creative writing, painting and drawing utensils will also find their new business home in Christmasworld and Creativeworld.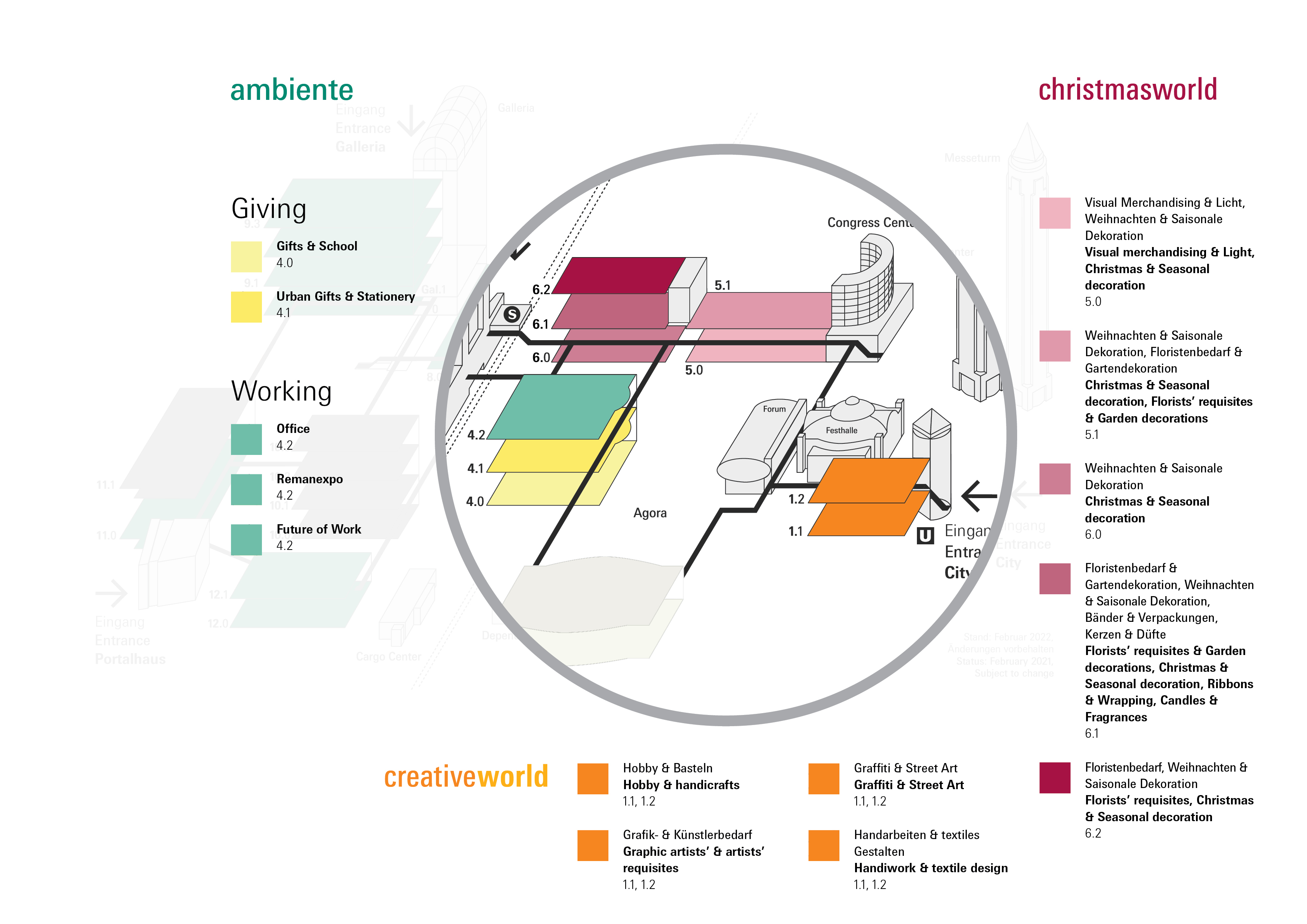 Where have new synergies been bundled? Where can the new product areas be found?
In the Giving section, Ambiente occupies Hall 4.0 with Gifts & School and Hall 4.1 with Urban Gifts & Stationery. This is because stationery, school articles, gifts and greetings cards also belong together in the retail sector.
The new Ambiente Working section will be presented in Hall 4.2 with Office, Remanexpo and Future of Work, embedded in an extensive complementary programme on the themes. Christmasworld will occupy Halls 5.0, 5.1, 6.0, 6.1 and 6.2 and the ribbons and packaging section will be located here in Hall 6.1 in future. Creativeworld presents creative writing, painting and drawing utensils in the two hall levels 1.1 and 1.2.
On a total of 27 hall levels, the successful formats Ambiente, Christmasworld and Creativeworld will be expanded with new product groups, their concepts further developed and thus positioned for the future. Together, they represent the world's most comprehensive range of consumer goods. Take a look at our hall plans for Ambiente, Christmasworld and Creativeworld to get a more detailed picture. By combining the events at one venue on one date, you as a visitor will have the chance to discover new exhibitors and place orders with them. In this way, we are preparing an ideal playing field for acquiring new customers, which is essential in these volatile times.
What about digital supplements?
We will of course continue our digital additions to the live trade fair experience: the future remains a mix of live and digital. The so-called "digital extension" with additional digital interaction and contact options is just as much a part of the new trade fair standard as the link with our online platforms Nextrade and Conzoom Solutions. Since 2019, we have been offering Nextrade, the first order and data management platform for the home and living sector, and Conzoom Solutions as an information and inspiration platform. Both are available to you 365 days around the clock, all year round, and are designed to provide you with targeted support.
Nevertheless, there is no substitute for real-life encounters, direct exchange and the haptic experience. In the future, trade fairs must develop even more strongly into emotional events that you don't want to miss under any circumstances. Additional digital offers as well as a comprehensive supporting programme including special presentations that keep up with the spirit of the times also create attractiveness. And that is exactly what we will realise in Frankfurt from 2023.