While customers are still celebrating barbecues, preparations for the year-end business are already underway in both online and stationary retail. The checklist from shopanbieter.de is a very helpful tool here. We take excerpts from it and give you additional tips from August to January on what exactly is important now for online business but also in the stationary shop.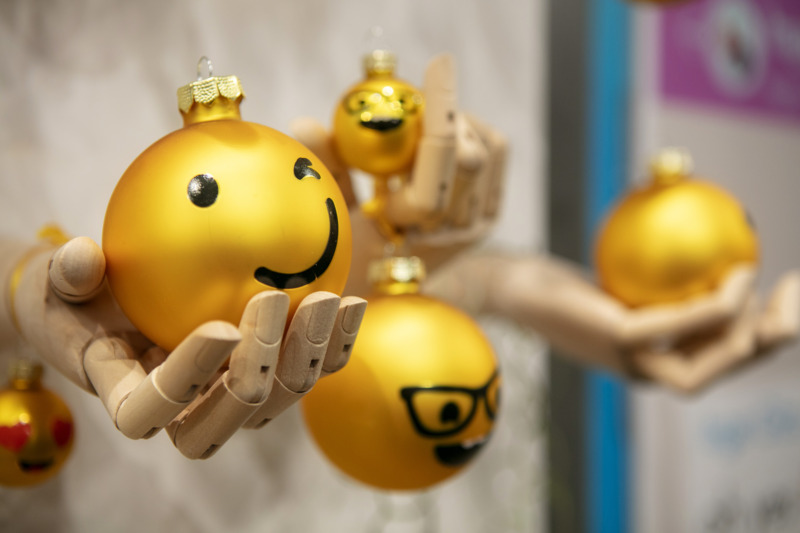 Why is it worth thinking about Christmas or the holiday season now? From now on, we will regularly ask this question to e-commerce expert Peter Höschl and trend specialist Gabriela Kaiser. This will give you important food for thought and ideas both for online business and for the appealing design of your shop windows, assortment compilations, and sales areas.
Now important for POS
At the latest, when the first typical Christmas signs and traditions suddenly appear in the shops worldwide - such as mulled wine or mince tearts, you should think about the trends you want to stage in your own shop and in the shop window display at the highest-turnover and most emotional time of the year. Go through your personal Christmas checklist: New merchandise already ordered? Has everything arrived in time? Are there any long-running favourites and new highlights? What went particularly well last holiday season? Can you leaverage on this? Can they be combined with upcoming new trends? Do I still need to reorder anything? What do I still need for the presentation in the shop?
The list of questions can be extended endlessly - in short, everything revolves around how you can make shopping even more pleasant, inspiring or even surprising for your customers at this time of year. You are the expert and know your customers best. All you have to do is retrieve this knowledge in good time, structure it and enrich it here and there with new ideas.
Christmas is family time, which makes it the most emotional and at the same time the best-selling decorating phase of the year. There is not only one way to decorate your rooms for the holiday season. Just as your customers have different tastes, different trend themes can be in vogue at the same time.
'Take a look at the Christmasworld Trends now, pick out your personal highlights, adapt your assortments to your individual style and, above all, to the tastes of your customers.'
Don't just think in terms of colour combinations, but ideally in terms of theme worlds and buy your range accordingly. Individual products, even if they are beautiful, are always difficult to present alone. And who wants the look of a colourful jumble in their shop?
In addition, think about the right gift packaging per style world, because today it's not only the contents that count, but also the accessories. And here, too, there is now a wide range of possibilities, from kraft paper with a natural look to a romantic, glittery version. More examples of colours, materials and designs will follow in September.
Now important for online trade
If you are an online retailer and not only have to fill your own warehouses, but also those of Amazon or Ebay, you are already (almost too) late. Because stocking up for the season's business does not work at the last minute and is already organised before September for the year-end rush. So it can be very difficult to have new products added to the FBA warehouses in the fourth quarter. (*FBA = Fulfillment by Amazon or "Shipping by Amazon" is a service from Amazon where you can have your goods shipped directly by Amazon).
In addition, thanks to "Black Friday" and "Cyber Monday", sales peaks have also shifted forward in time in recent years. Online retailers must therefore not only work towards 24.12.2022, but also optimally position themselves for 25.11. and 28.11.2022 if they want to secure their share of the overall sales pie.
'This year, forward planning for the Christmas business is particularly important. Due to the significantly longer delivery times and bottlenecks, it is already necessary to weigh up exactly when which products are ordered in which quantities from new and known suppliers.'
In case of doubt and with limited capital for the procurement of goods, traders should primarily concentrate on the products with high sales and margins.
The to-do lists are long and many things need to be considered. But what needs to be started and when?
The 2019 checklist from shopanbieter.de is considered an evergreen and provides online traders with a practical roadmap that lists the current steps to be taken month by month. You can find out what you should pay attention to in this exceptional year due to supply bottlenecks etc. in Peter Höschl's personal tip.
We will pass on a few excerpts from it here each month and briefly touch on a few tasks.
In focus: researching trend products
Check & compile Christmas assortment
Identify trend articles & put together gift bundles
SEO marketing for key Christmas top sellers
Determine & secure supplier channels
Determine sales channel strategy
Interested in the complete checklist?
Then click here (PDF).
The checklist is only available in German - if you are interested, please use online translator or contact us for support.
In addition, you will find further interesting information, white papers, specialist articles and e-commerce guides at shopanbieter.de.
Gabriela Kaiser - Trend Expert
Gabriela Kaiser has been advising companies from industry and commerce since 2002. She gives lectures at international trade fairs and regularly publishes articles in various trade journals on the subject of trends, design and lifestyle. Apart from the specific seasonal trends, she always keeps an eye on the overriding megatrends, which she compares with the wishes and needs of the end customers. Learn more here

Peter Höschl - E-Commerce Expert
Industry companion from the very beginning with 25 years of practical experience. Main focus: Strategy, brand building and e-commerce controlling & analysis. As the operator of the e-commerce portal shopanbieter.de, he has already written several books, practical guides and over 1,000 professional articles and is in demand as a coach and speaker. In his opinion, the profit and turnover for online traders in e-commerce is buried above all in the area of controlling and analysis.
About shopanbieter.de
shopanbieter.de is an information portal that provides operators of small and medium-sized online shops with up-to-date and concentrated information relevant to daily e-commerce: A comprehensive provider directory, a daily news service, background articles, free guides as well as interviews with specialised solution providers and service providers. To shopanbieter.de