You want to sell your product range on Instagram. Why? Because as a retailer or manufacturer you want to be able to use this extremely popular sales channel. Because you want to improve the customer journey to your products. Because Instagram gives you access to new target groups. Because you want to optimise your omnichannel strategy and increase your online presence. No matter the size of your company or whether you want to offer many or few products – there are many reasons to engage in social commerce and set up an Instagram shop. With a little know-how and patience, it's easy to set up and costs you nothing. Simply follow this guide.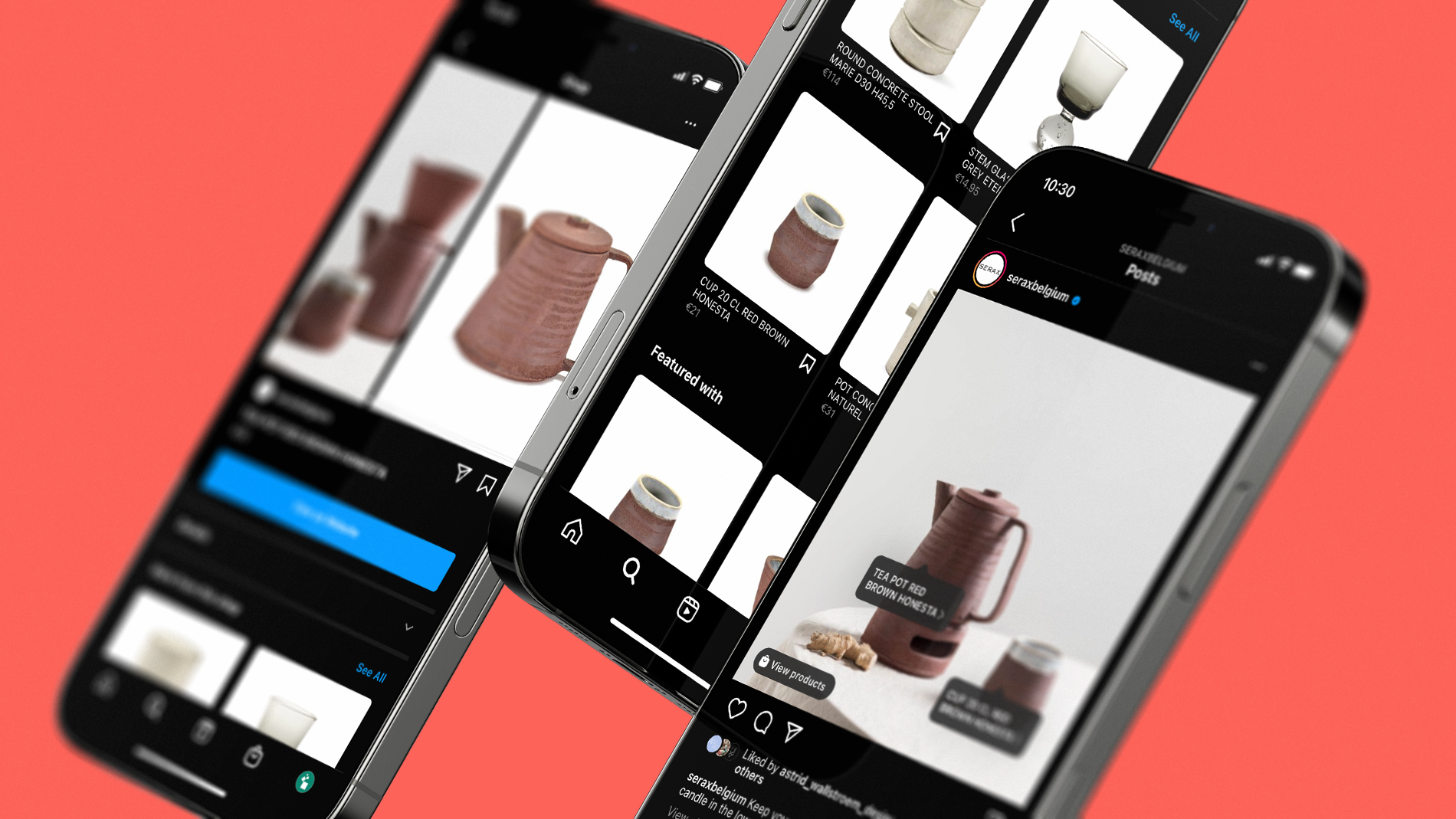 1. Ensure eligibility for setting up an Instagram shop
To use the Instagram Shopping feature, you already need a landingpage where users can complete the sale. Many sellers offer their products exclusively on Instagram. The important thing is that only physical products that do not infringe Instagram and Facebook commerce policies may be sold. No services, no discriminatory content, no gambling – these are just some of the exclusion criteria. Further details can be found on Instagram and Facebook.
You also need to have an Instagram business profile. If you don't have a profile yet, first of all create a personal profile and then convert it into a business profile in the Profile settings in the Instagram app. If you need help, you can consult an online marketing agency. Tip: Always use the latest version of the Instagram app!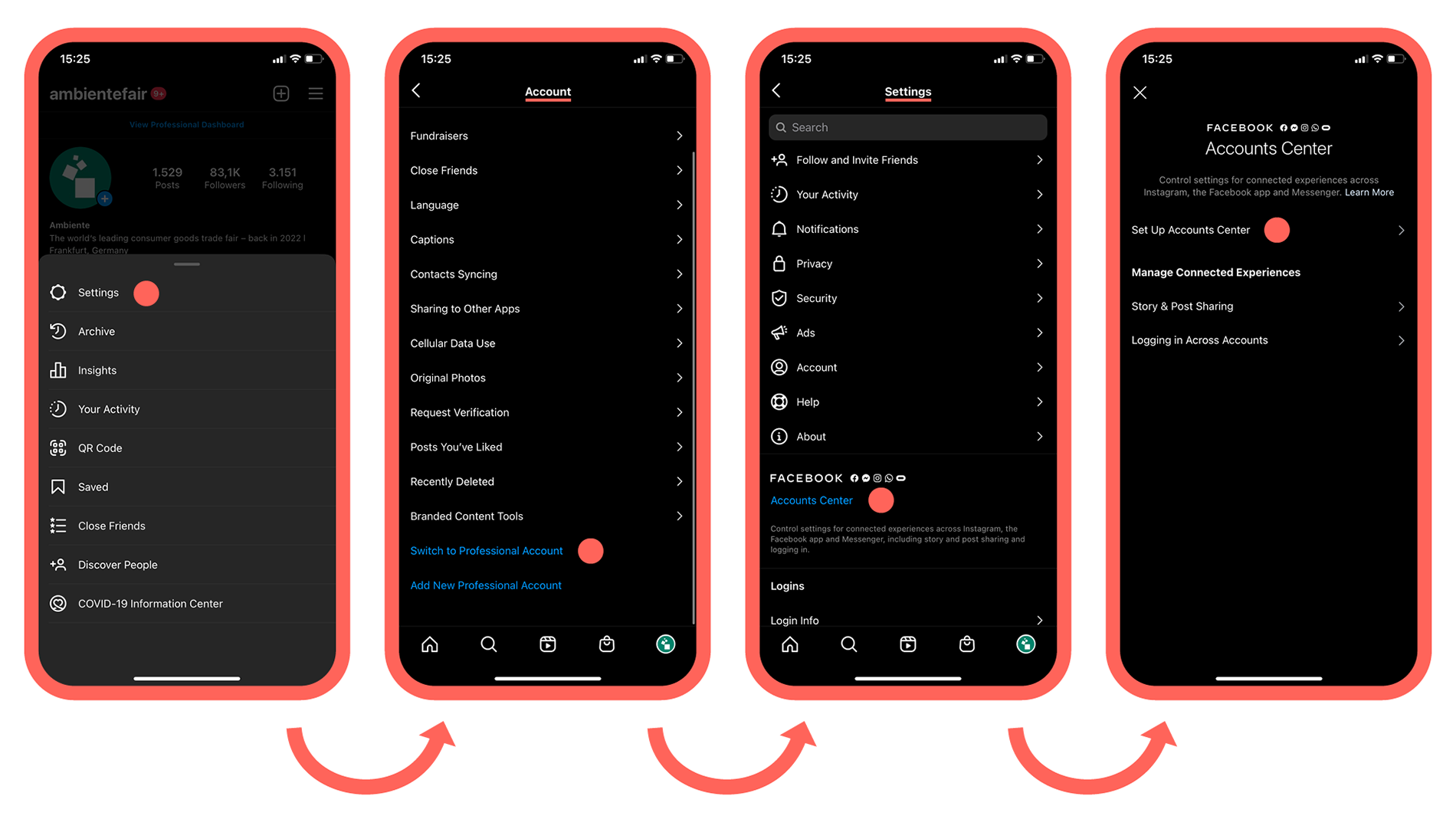 2. Connect to your Facebook page and upload a product catalogue
Your Instagram shop must be linked to your Facebook profile. To do so, select the menu item "Account Center" in Instagram, log into Facebook and open your Facebook page.
Before you can add items to the shop page, you must first select the products that you want to include in your shop. You can gather together the product images in a folder on your desktop in preparation for posting them on Instagram later. Start small perhaps and just upload parts of your range to the shop first of all and then gradually add more products.
Once you have selected your products, you can now create the individual products via the "Commerce Manager" tab in Facebook. It is even easier and faster if you use a shop system such as Magento or Shopify, which can be linked to the Facebook shop. To do so, click the "Create catalogue" button in Facebook Business Manager. Here you can specify the product name and price to be shown on your Instagram images. If you do not want to create the product catalogue yourself, you can collaborate with an e-commerce partner on this.
3. Turn on Instagram shopping
Have you linked your Facebook profile to Instagram? If so, submit your account for verification in the Instagram app (select Settings / Business / Instagram Shopping). If everything is OK, your account will be activated in a few days' time. You can now finish setting up Instagram shopping in the app.
4. Tag and sell products in images and videos
You can easily tag products on images in the feed and in Instagram stories by clicking "Tag products". For each image, you can select up to 20 products from the catalogue in a post and tag them in the photo or video. Your followers can immediately see the products that are for sale and click on them directly. They are then forwarded to the shopping page.

By the way, with Instagram shopping stories, only one product sticker may be placed per post. Shopping stickers cannot be placed in advertisements.
5. A few final tips
Make sure you use authentic posts for your Instagram shop with high-quality photos that present your products accurately and genuinely. Use captions since the Instagram algorithm takes these into account and they attract more attention from potential customers. Equally important are relevant hashtags. A mix of general and specific hashtags has proven to be effective here. Last but not least: Your shop is not a blog – personal things have no place here and are not appreciated by customers or Instagram. Check out Instagram for best-practice profiles. The shopping feature is only visible on mobile devices, not on desktops. So grab your smartphone and take a look at our selection of Ambiente, Christmasworld, Paperworld and Creativeworld exhibitors who are setting a good example and already offer their products for sale on their Instagram profiles: Koziol Germany, Fink Living, Villeroy & Boch, Tombow Deutschland, Serax, Putinki and Räder.
Conclusion: Instagram shopping – more sales doesn't mean more costs
Setting up an Instagram shop is not as difficult and time-consuming as you might first think. If you do not yet have your own online shop to which you can direct users, here is a detailed step-by-step guide. The shop feature on Instagram offers retailers and manufacturers an additional free option for increasing their sales. It's becoming almost indispensable these days.
What are your experiences of setting up your own Instagram shop? Do you have any questions? Write to us!
Author biography
svaerm is an online marketing agency with core competences in web, SEO, social media and multimedia content creation for B2B and B2C. As a strategic, editorial and creative partner based in Frankfurt am Main, svaerm helps businesses grow.